Betting On The Tampa Bay Vipers
The Tampa Bay Vipers are ready to strike fear into the hearts of their opponents and delight Florida football fans and gamblers alike. The Sunshine State has always had an appetite for competitive football, making the Tampa-area home of the XFL Vipers a no-brainer for the fledgling professional league.
The new XFL should have no problem getting a football foothold in FL, thanks to the state's love for major college teams like FSU, the Florida Gators, and the University of Miami, as well as NFL teams like the Jacksonville Jaguars, Miami Dolphins, and Tampa Bay Buccaneers. Florida has always been a hotspot for football and gridiron gambling, and once you're bitten by the Tampa Bay Vipers, you can expect XFL betting fever to take hold almost immediately. There is no known cure.
Check out our all-inclusive XFL betting guide to get you started with everything you need to know to place a bet on the Tampa Bay Vipers this XFL season. With Vipes head coach Marc Trestman running the show, you can expect the Vipers to put together a competitive football team and contend for the XFL championship.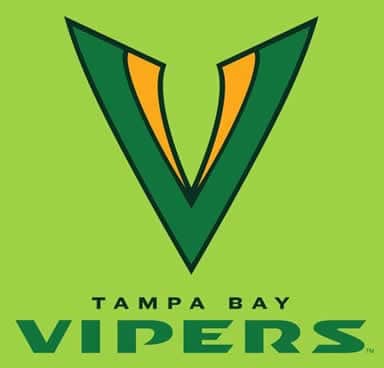 Tampa Bay Vipers Betting Odds & Team Info
The 2020 XFL season is here, and betting lines are beginning to pop up at online sportsbooks. Although XFL odds are currently limited to an assortment of main lines and props, as the popularity of the league grows, so will the opportunities for betting on the XFL.
Name:
Tampa Bay Vipers
City:
Tampa Bay, FL.
Venue:
Raymond James Stadium
(Home of Tampa Bay Buccaneers)
Capacity:
65,618
Team Colors:
Green, Gold, and White
Head Coach and GM:
Marc Trestman
Top Rated Online Sportsbooks For Betting On The Vipers
Bovada Sportsbook
Bovada is the best US sports betting site, and it shows. With the freshest XFL betting lines every day, you'll never run out of football action. As long as you're 18-plus, you can join Bovada and wager on your favorite new league.
For first-timers at Bovada, the site has an attractive 50% Welcome Bonus worth up to $250, all with the lowest rollover in the business. If winning is the name of the game, Bovada can't be beat!
Of course, Bovada isn't just the most trusted sportsbook, it's also a fully fledged gambling site with casino, poker, and horse racing action. Bet on it!
Is XFL Betting Legal?
As long as you place your bets at an online or brick and mortar sportsbook that is operating legally offshore or domestically, then yes, it is perfectly legal.  The sportsbooks you see on this page are all operating legally within the industry and are either independently licensed or are owned and operated by a parent company that holds licensing credentials.
So if you live in a state that has not yet legalized local sports betting, or you simply prefer the online betting options from international sportsbooks, you can place your bets at legitimate offshore sports betting sites without violating any state or federal gambling laws.  The exceptions are CT and WA, both of which have prohibited all forms of online gambling, and the state of NJ, which has convinced offshore sportsbooks to exit the NJ gambling market.
Tampa Bay Vipers Coaches
Head Coach/GM: Marc Trestman
Marc Trestman began coaching in 1981 when he accepted the position of quarterbacks coach at the University of Miami, making his return to FL something of a homecoming. In 1984, Trestman jumped to the NFL with the Minnesota Vikings as a running backs coach, and from there, he continued on to work with a number of NFL teams in various offensive coaching positions.
Trestman got his big break when he was named head coach of the CFL's Montreal Alouettes (2008-2012), winning two Grey Cup championships. Then, in 2013, Trestman was named the head coach of the Chicago Bears, though he lasted just one season before an OC stint with the Ravens and another short run in the CFL with the Toronto Argonauts (where he won another Grey Cup).
With nearly forty years of coaching experience, Trestman is the perfect fit for Tampa Bay and is expected to compete for the XFL title for years to come. As one of the first wave of new XFL coaches, you can expect Trestman and his staff to install a winning culture from day one.
2020 Tampa Bay Vipers Roster
Tampa Bay Vipers Notable Players
2020 Tampa Bay Vipers Schedule
Week 1: @ New York Guardians
Week 2: @ Seattle Dragons
Week 3: Houston Roughnecks
Week 4: DC Defenders
Week 5: @ Los Angeles Wildcats
Week 6: St. Louis BattleHawks
Week 7: Dallas Renegades
Week 8: @ DC Defenders
Week 9: @ BattleHawks
Week 10: New York Guardians
Post Season
Western Conference Playoffs: Sunday, April 19 at 3 PM
XFL Championship Game: Sunday, April 26 at 3 PM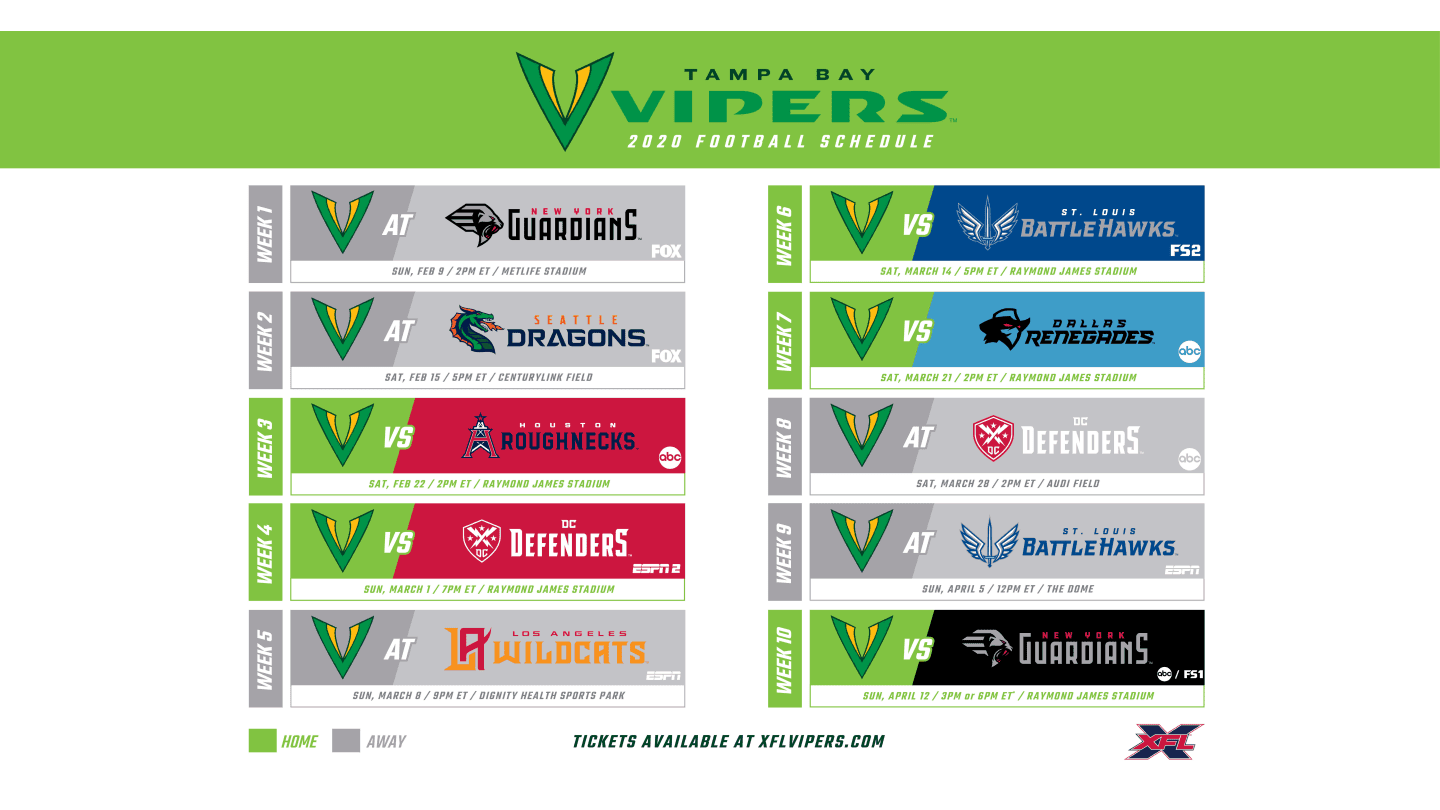 XFL Salaries
If you want to know how much XFL players make, it's actually kind of complicated. That said, Tampa Bay Vipers players make the same base salaries as all other players on current XFL teams, though the amount varies by position and performance.
According to the league itself, the average XFL salary is $55,000 per player, though quarterbacks can make up to twice that, with other major skill positions settling somewhere in between. Also, players will receive additional money each week in the form of winner or roster bonuses, and position-based incentives can add to each player's annual haul.
The maximum salary for an XFL head coach is $500,000 a year, though this is also contingent on a series of escalators and performance triggers.