Betting on the Houston Roughnecks
If you're interested in betting on the Houston Roughnecks, you don't need to rubberneck – just look right here for an exhaustive breakdown of XFL team information. Whether it be the most recent point spread, a coaching move, or some roster news, you can find the latest on the Houston XFL franchise on this page.
Houston has long been a home for professional football. The NFL's Oilers called the area home from 1960 until 1996 when they relocated to Tennessee and became the Titans. In fact, the Roughneck's logo and color scheme pay homage to the uniforms of the Oilers, and "roughneck" is actually an old term for oil rig worker. After the Oilers left town, the Houston Texans began play as an NFL expansion franchise in 2002 and are still prospering today.
The Houston Roughnecks have come to town to establish dominance and bring the first pro football championship to H-Town.  Get involved with the Houston Roughnecks and don't miss out on any exciting 2020 XFL betting action.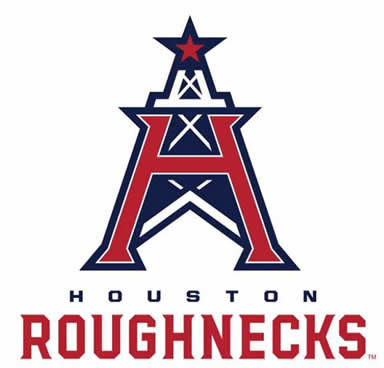 Houston Roughnecks Betting Odds & Team Info
Wagering on the XFL is a relatively new phenomenon.  As the popularity of the XFL continues to grow, we expect to see more betting lines available from our recommended sportsbooks.  These are the odds that we're seeing at major sportsbooks so far.
Name:
Houston Roughnecks
City:
Houston, TX.
Head Coach and GM:
June Jones
Venue:
TDECU Stadium
Capacity:
40,000
Team Colors:
Red, Navy, and Gray
Bovada

Team
 
Dallas Renegades:

TBA

DC Defenders:

TBA

Tampa Bay Vipers:

TBA

Houston Roughnecks:

TBA

Los Angeles Wildcats:

TBA

St. Louis Battlehawks:

TBA

New York Guardians:

TBA

Seattle Dragons:

TBA
MyBookie

Team
 
Dallas Renegades:

TBA

New York Guardians:

TBA

Tampa Bay Vipers:

TBA

Los Angeles Wildcats:

TBA

DC Defenders:

TBA

Houston Roughnecks:

TBA

St. Louis Battlehawks:

TBA

Seattle Dragons:

TBA
Bovada
Spread:
Guardians:

TBA
Renegades:

TBA
Dragons:

TBA
Roughnecks:

TBA
Battlehawks:

TBA
Defenders:

TBA
Wildcats:

TBA
Vipers:

TBA
MyBookie
Spread:
Guardians:

TBA
Renegades:

TBA
Dragons:

TBA
Roughnecks:

TBA
Battlehawks:

TBA
Defenders:

TBA
Wildcats:

TBA
Vipers

TBA
Top Rated Online Sportsbooks For Betting On The Roughnecks
Bovada Sportsbook
Betting on the XFL is the new hotness in the American wagering marketplace, and Bovada is the best sportsbook on the Internet. With millions of users nationwide, there's no better place to bet on spring football.
If you sign up today, Bovada will give new members a $250 Welcome Bonus with the industry's friendliest 5X rollover, so you can have more to bet more!
As the most trusted sports betting site going, Bovada has everything the avid gambler needs, from an international sportsbook and racebook to casino games and even a tournament poker room.
Is XFL Betting Legal?
As long as you place your bets at an online or brick and mortar sportsbook that is operating legally offshore or domestically, then yes, it is perfectly legal.  The sportsbooks you see on this page are all operating legally within the industry and are either independently licensed or are owned and operated by a parent company that holds licensing credentials.
So if you live in a state that has not yet legalized local sports betting, or you simply prefer the online betting options from international sportsbooks, you can place your bets at legitimate offshore sports betting sites without violating any state or federal gambling laws.  The exceptions are CT and WA, both of which have prohibited all forms of online gambling, and the state of NJ, which has convinced offshore sportsbooks to exit the NJ gambling market.
Houston Roughnecks Personnel
Head Coach and General Manager: June Jones
Jones has been in the coaching profession for nearly 40 years and has experience at the collegiate and professional levels.  Jones spent time as an offensive coach for the Atlanta Falcons and the Houston Oilers in the late 80s and early 90s, and he was a member of the staff that originated the vaunted Run & Shoot offense.
Jones' most recent coaching stint was for the Canadian Football League's Hamilton Tiger-Cats, where he compiled a 14-14 record over two seasons. Jones now brings his pass-heavy philosophy to the Roughnecks and looks to drill his opponents each week with an aggressive offensive attack.
OC – Chris Miller
QB Coach – Dan Morrison
RB Coach – Wes Saun
WR Coach – A. J. Smith
OL Coach – John Estes
Off. Asst./Spec. Teams - Dennis McKnight
DC – Ted Cottrell
LB Coach – Tom Mason
DB Coach – Derrius Bell
DL Coach – Robert Lyles
1 Lewis, Kahlil WR 5-10 190 Cincinnati
3 Mobley, Sam WR 5-10 175 Catawba
5 Rehkow, Austin P 6-3 214 Idaho
7 Castillo, Sergio K 5-10 175 West Texas AM
10 Coates, Sammie WR 6-1 210 Auburn
11 Walker, P.J. QB 5-11 214 Temple
13 Bolden, Ray WR 5-9 165 Stony Brook
14 Phillips, Cam WR 6-0 201 Virginia Tech
15 Malone, Ryheem WR 5-9 187 Louisiana-Lafayette
17 Jackson, Blake WR 5-11 200 Mary Hardin-Baylor
18 Cook, Connor QB 6-4 217 Michigan State
20 Huff, Marqueston S 5-11 196 Wyoming
21 James, Charles CB 5-9 185 Charleston Southern
22 Ballard, Corrian S 6-3 195 Utah
23 Elston, Trae S 5-11 193 Mississippi
25 Brown, Cody S 6-0 208 Arkansas State
26 Smith, Saivion CB 6-1 190 Alabama
27 Harris, Ajene CB 5-10 190 USC
28 Butler, James RB 5-10 205 Nevada/Iowa
29 Henderson, De'Angelo RB 5-8 207 Coastal Carolina
30 Olatoye, Deji CB 6-1 205 North Carolina A&T
32 Nichols, Deatrick CB 5-9 185 South Florida
33 Holley, Nick RB 5-10 194 Kent State
40 Schwab, Ty LB 6-1 225 Boston College
41 Johnson, Jeremiah CB 6-1 185 Concord
42 Brown, Beniquez LB 6-0 229 Mississippi State
43 Bradford, Carl LB 6-1 250 Arizona State
44 Williams, Andre RB 6-0 220 Boston College
47 Gates, DeMarquis LB 6-2 221 Mississippi
50 Burnett, Kaelin LB 6-4 234 Nevada
51 Robinson, Edmond LB 6-3 245 Newberry
53 Lewis, Drew LB 6-2 229 Colorado
54 Lewis, LaTroy LB 6-3 240 Tennessee
56 Koroma, Tejan OL 6-1 300 Brigham Young
58 Taylor, Colton LS 5-11 241 Virginia Tech
59 McMillian, Vantrell DL 6-3 255 Chattanooga
60 Weathersby, Toby OL 6-5 315 LSU
65 Rhaney, Demetrius OL 6-2 305 Tennessee State
66 Tucker, Marquez OL 6-3 300 Southern Utah
69 Faciane, Isame OL 6-3 300 Florida International
73 Tretola, Sebastian OL 6-3 325 Arkansas
74 Gennesy, Avery OL 6-5 315 Texas A&M
76 Bushell-Beatty, Juwann OL 6-5 333 Michigan
77 Palmer, Kelvin OL 6-4 290 Baylor
79 Poole, Terry OL 6-5 307 San Diego State
90 Maxey, Johnny DE 6-4 293 Mars Hill
91 Lyons, Caushaud DL 6-5 284 Tusculum
93 Crawford, Corey DE 6-5 283 Clemson
94 Ealy, Kony DE 6-4 273 Missouri
96 Palmore, Walter DL 6-4 320 Missouri
97 Wright, Gabe DL 6-3 285 Auburn
98 James, Nick DL 6-4 314 Mississippi State
Roughnecks Notable Players
Cook and Walker are splitting snaps at quarterback during practice.  It is unclear who is going to be the starter at this time, but whoever it is, they should have plenty of opportunity for stats in June Jones' pass-happy offense.  Cook spent two seasons with the NFL's Oakland Raiders before bringing his talents to the XFL. Walker has been a member of the Indianapolis Colts' practice squad for the past three seasons and now looks to make his mark as the chief signal caller for the Roughnecks' offense.
NFL veteran wide receiver Sammie Coates has impressed so far this preseason and is in line for a lot of targets in this offense. Sammy has spent time with the Steelers, Browns, Texans, and Chiefs, and now looks to reestablish himself as a topflight receiver with the Roughnecks. 
Ealy will be a force on the defensive line.  The 6'4" defensive end has bounced around the NFL since 2014 and is now ready to put in the hard work required play at the highest level. Look for Ealy to make an impact early by setting up camp in opposing offense's backfields.
Tier 1 Quarterback Allocations
Cardale Jones – QB – Ohio State
Phase 1: Skill Players
1 1 Rashard Davis WR James Madison
2 16 Tre McBride WR William & Mary
3 17 Jhurell Pressley RB New Mexico
4 32 DeAndre Thompkins WR Penn State
5 33 Khari Lee TE Bowie State
6 48 Orson Charles TE Georgia
7 49 Donnel Pumphrey RB San Diego State
8 64 Max McCaffrey WR Duke
9 65 Tyree Jackson QB Buffalo
10 80 Adrien Robinson TE Cincinnati
Phase 2: Offensive Line
1 8 Kyle Murphy OT Stanford
2 9 Logan Tuley-Tillman OT Michigan
3 24 De'Ondre Wesley OT BYU
4 25 Jon Toth C Kentucky
5 40 Rishard Cook G UAB
6 41 Chris Brown G USC
7 56 Toby Weathersby OT LSU
8 57 James O'Hagan C Buffalo
9 72 Chase Farris G Ohio State
10 73 Casey Tucker OT Arizona State
Phase 3: Defensive Front Seven
1 5 James Vaughters LB Stanford
2 12 Charles Harris DE Buffalo
3 21 Elijah Qualls DT Washington
4 28 Scooby Wright LB Arizona
5 37 Tracy Sprinkle DT Ohio State
6 44 Jameer Thurman LB Indiana State
7 53 Sam Montgomery DE LSU
8 60 Jonathan Celestin LB Minnesota
9 69 KeShun Freeman DE Georgia Tech
10 76 Daryle Banfield DT Brown
Phase 4: Defensive Backs
1 4 Elijah Campbell CB Northern Iowa
2 13 Desmond Lawrence CB North Carolina
3 20 Jalen Myrick CB Minnesota
4 29 Doran Grant CB Ohio State
5 36 Bradley Sylve CB Alabama
6 45 Reggie Cole CB Mary Hardin–Baylor
7 52 Rahim Moore S UCLA
8 61 Tyree Kinnel S Michigan
9 68 Carlos Merritt S Campbell
10 77 Ladarius Gunter CB Miami (FL)
Phase 5: Open Draft
Khalid Abdullah RB James Madison
John Thomas RB Penn State
Ryan Yurachek RB Marshall
Jamal Custis WR Syracuse
Deion Holliman WR Missouri
Levern Jacobs WR Maryland
Terrence Lee-Alls WR James Madison
Richard Mullaney WR Alabama
Jaylen Smith WR Louisville
Justin Thomas WR Georgia Tech
Dimitrios Tsesmetzis TE Western Connecticut State
Cole Boozer OT Temple
Randall Harris OT Towson
Trae Moxley OT Colorado State
Terron Prescod G NC State
Ronald Patrick C South Carolina
Tavaris Barnes DE Clemson
Jake Ceresna DE Cortland
Brian Khoury DE Carnegie Mellon
Siupeli Anau DT Northern Arizona
Josh Augusta DT Missouri
DuVonta Lampkin DT Oklahoma
Kristjan Sokoli DT Buffalo
Koa Farmer LB Penn State
Jordan Jones LB Kentucky
A. J. Tarpley LB Stanford
Matt Elam S Florida
Max Redfield S IUP
Tre Sullivan S Shepherd
Hunter Niswander P Northwestern
Supplemental Draft
Malachi Dupre WR LSU
Tyler Palka WR Gannon
Eli Rogers WR Louisville
Donnie Ernsberger TE Western Michigan
A. T. Hall OT Stanford
Malcolm Bunche G UCLA
Dorian Johnson G Pittsburgh
Jesse Aniebonam DE Maryland
Kenny Bigelow DT West Virginia
Jay Bromley DT Syracuse
Kerron Johnson LB Coastal Carolina
Deion Harris CB North Dakota
Kamrin Moore S Boston College
2020 Houston Roughnecks Schedule
Week 1: Los Angeles Wildcats
Week 2: St. Louis BattleHawks
Week 3: @ Tampa Bay Vipers
Week 4: @ Dallas Renegades
Week 5: Seattle Dragons
Week 6: @ New York Guardians
Week 7: DC Defenders
Week 8: @ Los Angeles Wildcats
Week 9: Dallas Renegades
Week 10: @ Seattle Dragons
Post Season
Eastern Conference Playoffs: Saturday, April 18 at 3 PM
XFL Championship Game: Sunday, April 26 at 3 PM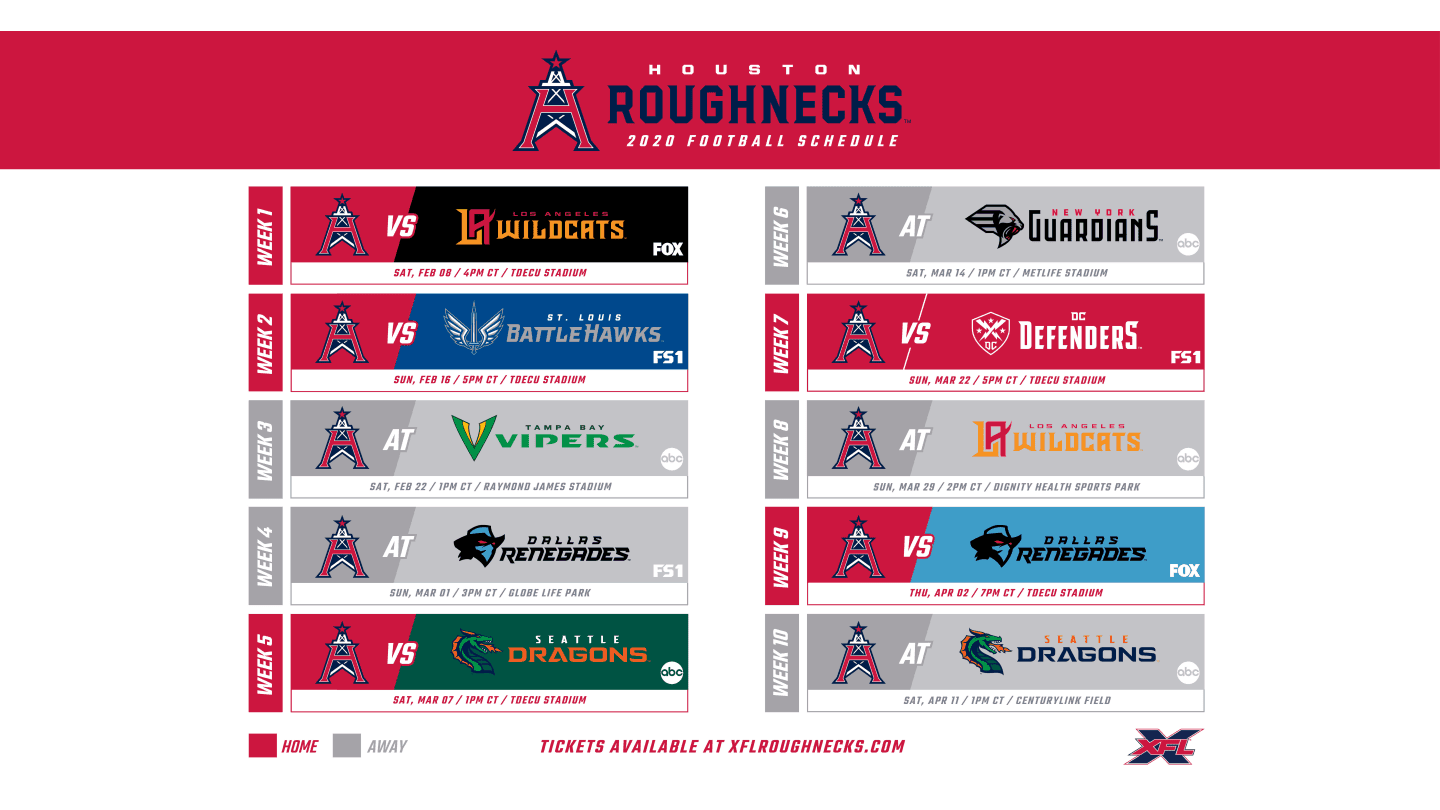 XFL Salaries
The Houston Roughnecks will feature the exact same salary structure that is in place for the rest of the XFL.  We do not have an exact breakdown of how the salary schedule works, but the league has announced that the average player salary is $55,000.  This salary will be bolstered by weekly bonuses based two different factors, an active-roster bonus and a winner's pot that is shared amongst the winning team.
Some players, such as quarterback sand other top-level skill positions, will have the opportunity to make a salary that is considerably higher than the average.  This will be achieved through the completion of incentives as well as other contract escalators.  The maximum salary that XFL coachs can make is $500,000.