Betting on the Houston Roughnecks
If you're interested in betting on the Houston Roughnecks, you don't need to rubberneck – just look right here for an exhaustive breakdown of XFL team information. Whether it be the most recent point spread, a coaching move, or some roster news, you can find the latest on the Houston XFL franchise on this page.
Houston has long been a home for professional football. The NFL's Oilers called the area home from 1960 until 1996 when they relocated to Tennessee and became the Titans. In fact, the Roughneck's logo and color scheme pay homage to the uniforms of the Oilers, and "roughneck" is actually an old term for oil rig worker. After the Oilers left town, the Houston Texans began play as an NFL expansion franchise in 2002 and are still prospering today.
The Houston Roughnecks have come to town to establish dominance and bring the first pro football championship to H-Town.  Get involved with the Houston Roughnecks and don't miss out on any exciting 2020 XFL betting action.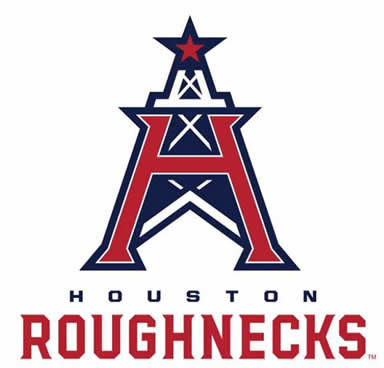 Houston Roughnecks Betting Odds & Team Info
Wagering on the XFL is a relatively new phenomenon.  As the popularity of the XFL continues to grow, we expect to see more betting lines available from our recommended sportsbooks.  These are the odds that we're seeing at major sportsbooks so far.
Name:
Houston Roughnecks
City:
Houston, TX.
Head Coach and GM:
June Jones
Venue:
TDECU Stadium
Capacity:
40,000
Team Colors:
Red, Navy, and Gray
Top Rated Online Sportsbooks For Betting On The Roughnecks
Bovada Sportsbook
Betting on the XFL is the new hotness in the American wagering marketplace, and Bovada is the best sportsbook on the Internet. With millions of users nationwide, there's no better place to bet on spring football.
If you sign up today, Bovada will give new members a $250 Welcome Bonus with the industry's friendliest 5X rollover, so you can have more to bet more!
As the most trusted sports betting site going, Bovada has everything the avid gambler needs, from an international sportsbook and racebook to casino games and even a tournament poker room.
Is XFL Betting Legal?
As long as you place your bets at an online or brick and mortar sportsbook that is operating legally offshore or domestically, then yes, it is perfectly legal.  The sportsbooks you see on this page are all operating legally within the industry and are either independently licensed or are owned and operated by a parent company that holds licensing credentials.
So if you live in a state that has not yet legalized local sports betting, or you simply prefer the online betting options from international sportsbooks, you can place your bets at legitimate offshore sports betting sites without violating any state or federal gambling laws.  The exceptions are CT and WA, both of which have prohibited all forms of online gambling, and the state of NJ, which has convinced offshore sportsbooks to exit the NJ gambling market.
Houston Roughnecks Personnel
Head Coach and General Manager: June Jones
Jones has been in the coaching profession for nearly 40 years and has experience at the collegiate and professional levels.  Jones spent time as an offensive coach for the Atlanta Falcons and the Houston Oilers in the late 80s and early 90s, and he was a member of the staff that originated the vaunted Run & Shoot offense.
Jones' most recent coaching stint was for the Canadian Football League's Hamilton Tiger-Cats, where he compiled a 14-14 record over two seasons. Jones now brings his pass-heavy philosophy to the Roughnecks and looks to drill his opponents each week with an aggressive offensive attack.
Roughnecks Notable Players
2020 Houston Roughnecks Schedule
Week 1: Los Angeles Wildcats
Week 2: St. Louis BattleHawks
Week 3: @ Tampa Bay Vipers
Week 4: @ Dallas Renegades
Week 5: Seattle Dragons
Week 6: @ New York Guardians
Week 7: DC Defenders
Week 8: @ Los Angeles Wildcats
Week 9: Dallas Renegades
Week 10: @ Seattle Dragons
Post Season
Eastern Conference Playoffs: Saturday, April 18 at 3 PM
XFL Championship Game: Sunday, April 26 at 3 PM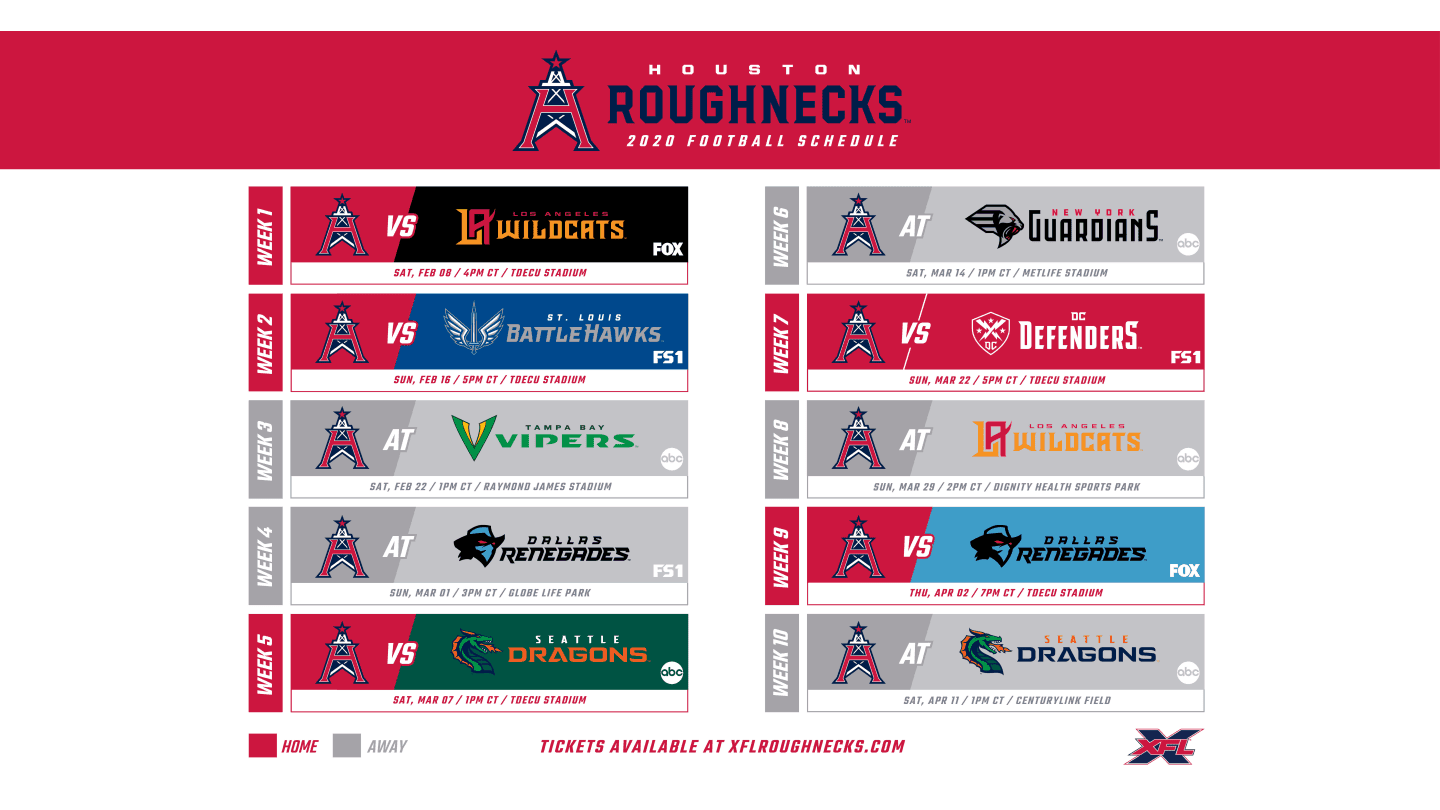 XFL Salaries
The Houston Roughnecks will feature the exact same salary structure that is in place for the rest of the XFL.  We do not have an exact breakdown of how the salary schedule works, but the league has announced that the average player salary is $55,000.  This salary will be bolstered by weekly bonuses based two different factors, an active-roster bonus and a winner's pot that is shared amongst the winning team.
Some players, such as quarterback sand other top-level skill positions, will have the opportunity to make a salary that is considerably higher than the average.  This will be achieved through the completion of incentives as well as other contract escalators.  The maximum salary that XFL coachs can make is $500,000.