Betting on the DC Defenders
You've found the right place for all the information you could possibly need to place a bet on the DC Defenders.  Fall is over, but don't worry.  Spring is here, and the XFL and DC Defenders will satisfy your football cravings and provide loads of betting action for the 2020 XFL season.
The Baltimore and Washington D.C. areas have a long history of hosting professional football franchises.  The Washington Redskins moved from Boston to Washington, D.C. in 1937 and are still there today.  The Baltimore Colts played in the region from 1953 to 1983 and won two NFL championships and a Super Bowl. In 1996, the Baltimore Ravens moved to the area and have won two titles since arriving.
The DC Defenders have a tough legacy to live up to.  Join in on the fun as the Defenders guard against their XFL combatants and generate loads of betting action. Coach Hamilton and the Defenders look to win an XFL title and hoist the championship trophy in 2020.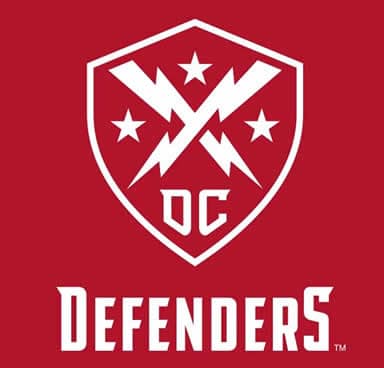 DC Defenders Betting Odds & Team Info
The new XFL league is about to kick off action, and oddsmakers have begun to post betting lines on the DC Defenders.  We are seeing more odds posted every day, so check this page often as we'll be updating information frequently.
Name:
D.C. Defenders
City:
Washington, D.C.
Head Coach and GM:
Pep Hamilton
Venue:
Audi Field
Capacity:
20,000
Team Colors:
Red and White
Bovada

Team
 
Dallas Renegades:

TBA

DC Defenders:

TBA

Tampa Bay Vipers:

TBA

Houston Roughnecks:

TBA

Los Angeles Wildcats:

TBA

St. Louis Battlehawks:

TBA

New York Guardians:

TBA

Seattle Dragons:

TBA
MyBookie

Team
 
Dallas Renegades:

TBA

New York Guardians:

TBA

Tampa Bay Vipers:

TBA

Los Angeles Wildcats:

TBA

DC Defenders:

TBA

Houston Roughnecks:

TBA

St. Louis Battlehawks:

TBA

Seattle Dragons:

TBA
Bovada
Spread:
Guardians:

TBA
Renegades:

TBA
Dragons:

TBA
Roughnecks:

TBA
Battlehawks:

TBA
Defenders:

TBA
Wildcats:

TBA
Vipers:

TBA
MyBookie
Spread:
Guardians:

TBA
Renegades:

TBA
Dragons:

TBA
Roughnecks:

TBA
Battlehawks:

TBA
Defenders:

TBA
Wildcats:

TBA
Vipers

TBA
Top Rated XFL Sportsbooks For Betting On The Defenders
Bovada Sportsbook
If you want to wager at the #1 US sportsbook, choose Bovada. With nearly a decade leading the industry, the site is open to most US residents and has a host of bonuses and incentives for new members.
Sign up today, and you can take advantage of Bovada's $250 Welcome Bonus that gives players a little more offense on the front lines, all with the industry's friendliest terms.
Bovada is by far the most trusted offshore betting site, and XFL fans get weekly odds and championship futures all season long.
Is XFL Betting Legal?
As long as you place your bets at an online or brick and mortar sportsbook that is operating legally offshore or domestically, then yes, it is perfectly legal.  The sportsbooks you see on this page are all operating legally within the industry and are either independently licensed or are owned and operated by a parent company that holds licensing credentials.
So if you live in a state that has not yet legalized local sports betting, or you simply prefer the online betting options from international sportsbooks, you can place your bets at legitimate offshore sports betting sites without violating any state or federal gambling laws.  The exceptions are CT and WA, both of which have prohibited all forms of online gambling, and the state of NJ, which has convinced offshore sportsbooks to exit the NJ gambling market.
DC Defenders Personnel
Head Coach and General Manager: Pep Hamilton
Pep Hamilton began his coaching career at his alma mater, Howard University.  After five seasons, he then moved on to become an offensive position coach for New York Jets.   In 2006 he became the quarterback coach for the San Francisco 49ers, and then moved on to serve in the same role for the Chicago Bears the following year.
After spending a couple of seasons in the collegiate ranks at Stanford and then returning to the NFL once again, Pep has turned his sights to the XFL, where he will be a head coach for the first time.  Hamilton will bring his pass-happy offensive scheme to Washington DC and try to keep opposing defenses guessing.
Asst – Brent Battle
OC/RB Coach – Tanner Engstrand
QB Coach – Ted White
WR Coach – Bob Saunders
OL/TE Coach – Chris Scelfo
DC/DB coach – Louie Cioffi
DL Coach – Ray Hamilton
LB Coach – Kurt Gouveia
Def. Asst. – Mike Gillhamer
Spec. Teams/DB Coach – Steve Wilson
2020 D.C. Defenders Roster
1 Thompkins, DeAndre WR 5'11" 187 Penn State
2 Rausa, Ty K 5'9" 189 Boise State
3 Jackson, Tyree QB 6'7" 250 Buffalo
4 Rogers, Eli WR 5'11" 176 Louisville
7 Niswander, Hunter P 6'5" 230 Northwestern
9 Rowell, Jalen WR 6'4" Air Force
10 Cobbs, Simmie WR 6'3" 220 Indiana
12 Jones, Cardale QB 6'5" 264 Ohio State
15 Ross, Rashad WR 6'0" 180 Arizona State
16 Palka, Tyler WR 6'0" 197 Gannon
19 Dupre, Malachi WR 6'4" 195 Louisiana State
20 Merritt, Carlos S 6'0" 190 Campbell
21 Grant, Doran CB 5'10" 195 Ohio State
22 Elam, Matt S 5'10" 205 Florida
23 Myrick, Jalen CB 5'10" 201 Minnesota
24 Pumphrey, Donnel RB 5'8" 178 San Diego State
25 Lawrence, Desmond CB 5'11" 187 North Carolina
26 Pressley, Jhurell RB 5'10" 209 New Mexico
28 Campbell, Elijah CB 5'11" 192 Northern Iowa
29 Kinnel, Tyree S 5'11" 210 Michigan
30 Sylve, Bradley CB 6'0" 172 Alabama
31 Brossette, Nick RB 5'11" 210 Louisiana State
32 Abdullah, Khalid RB 5'9" 226 James Madison
38 Thomas, Shamarko S 5'9" 205 Syracuse
42 Khoury, Brian DE 6'3" 238 Carnegie Mellon
51 Johnson, Dorian OG 6'5" 291 Pittsburgh
52 Celestin, Jonathan LB 6'0" 227 Minnesota
53 Thurman, Jameer LB 6'0" 223 Indiana State
54 Massaquoi, Jonathan LB 6'2" 265 Troy
55 Williams, Antwione LB 6'3" 245 Georgia Southern
56 Freeman, KeShun DE 6'2" 259 Georgia Tech
58 Wright, Scooby LB 6'0" 228 Arizona
59 Tarpley, A.J. LB 6'2" 225 Stanford
64 Toth, Jon OC 6'5" 298 Kentucky
69 Boozer, Cole OT 6'5" 306 Temple
72 Tuley-Tillman, Logan OT 6'6" 308 Texas-El Paso
74 Cook, Rishard OG 6'3" 364 UAB
75 Brown, Chris OG 6'4" 315 Southern California
77 O'Hagan, James OC 6'2" 299 Buffalo
78 Bunche, Malcolm OT 6'6" 326 UCLA
79 Wesley, De'Ondre OT 6'6" 320 Brigham Young
80 Ernsberger, Donnie TE 6'3" 241 Western Michigan
85 Hayward, Derrick TE 6'5" 260 Maryland
86 Lee, Khari TE 6'4" 255 Bowie State
90 Anau, Siupeli DT 6'2" 286 Northern Arizona
91 Barnes, Tavaris DE 6'4" 267 Clemson
92 Qualls, Elijah DT 6'1" 337 Washington
93 Sprinkle, Tracy DT 6'2" 287 Ohio State
94 Vakameilalo, Kalani DT 6'3" 322 Oregon State
95 Bigelow, Kenny DT 6'3" 308 West Virginia
96 Bromley, Jay DT 6'3" 297 Syracuse
99 Montgomery, Sam DE 6'3" 248 Louisiana State
D.C. Defenders Notable Players
After spending some time with the Buffalo Bills, Los Angeles Chargers, and Seattle Seahawks, Cardale Jones became the first overall pick of the DC Defenders in the 2020 XFL draft.  Cardale previously won a national championship while quarterbacking the Ohio State Buckeyes in 2014.  Jones now seeks to prove that he belongs amongst the best in the business at the quarterback position.  
Eli Rogers looks to electrify fans of the DC Defenders in 2020 by stretching defenses and catching long touchdown passes.  After a productive college career as a wide receiver at Louisville, Rogers spent four years with the Pittsburgh Steelers.  He's got a chip on his shoulder and is out to prove that he can perform amongst the best.
Safety Matt Elam is a former all-American at the University of Florida and was a first-round draft pick of Baltimore Ravens in 2013.  After spending three years with Baltimore, he moved on to the Canadian Football League and now looks to reestablish his career with the DC Defenders. Look for Elam to lower the boom on the Defenders' opposition in 2020.
Tier 1 Quarterback Allocations
Cardale Jones – QB – Ohio State
Phase 1: Skill Players
1 1 Rashard Davis WR James Madison
2 16 Tre McBride WR William & Mary
3 17 Jhurell Pressley RB New Mexico
4 32 DeAndre Thompkins WR Penn State
5 33 Khari Lee TE Bowie State
6 48 Orson Charles TE Georgia
7 49 Donnel Pumphrey RB San Diego State
8 64 Max McCaffrey WR Duke
9 65 Tyree Jackson QB Buffalo
10 80 Adrien Robinson TE Cincinnati
Phase 2: Offensive Line
1 8 Kyle Murphy OT Stanford
2 9 Logan Tuley-Tillman OT Michigan
3 24 De'Ondre Wesley OT BYU
4 25 Jon Toth C Kentucky
5 40 Rishard Cook G UAB
6 41 Chris Brown G USC
7 56 Toby Weathersby OT LSU
8 57 James O'Hagan C Buffalo
9 72 Chase Farris G Ohio State
10 73 Casey Tucker OT Arizona State
Phase 3: Defensive Front Seven
1 5 James Vaughters LB Stanford
2 12 Charles Harris DE Buffalo
3 21 Elijah Qualls DT Washington
4 28 Scooby Wright LB Arizona
5 37 Tracy Sprinkle DT Ohio State
6 44 Jameer Thurman LB Indiana State
7 53 Sam Montgomery DE LSU
8 60 Jonathan Celestin LB Minnesota
9 69 KeShun Freeman DE Georgia Tech
10 76 Daryle Banfield DT Brown
Phase 4: Defensive Backs
1 4 Elijah Campbell CB Northern Iowa
2 13 Desmond Lawrence CB North Carolina
3 20 Jalen Myrick CB Minnesota
4 29 Doran Grant CB Ohio State
5 36 Bradley Sylve CB Alabama
6 45 Reggie Cole CB Mary Hardin–Baylor
7 52 Rahim Moore S UCLA
8 61 Tyree Kinnel S Michigan
9 68 Carlos Merritt S Campbell
10 77 Ladarius Gunter CB Miami (FL)
Phase 5: Open Draft
Khalid Abdullah RB James Madison
John Thomas RB Penn State
Ryan Yurachek RB Marshall
Jamal Custis WR Syracuse
Deion Holliman WR Missouri
Levern Jacobs WR Maryland
Terrence Lee-Alls WR James Madison
Richard Mullaney WR Alabama
Jaylen Smith WR Louisville
Justin Thomas WR Georgia Tech
Dimitrios Tsesmetzis TE Western Connecticut State
Cole Boozer OT Temple
Randall Harris OT Towson
Trae Moxley OT Colorado State
Terron Prescod G NC State
Ronald Patrick C South Carolina
Tavaris Barnes DE Clemson
Jake Ceresna DE Cortland
Brian Khoury DE Carnegie Mellon
Siupeli Anau DT Northern Arizona
Josh Augusta DT Missouri
DuVonta Lampkin DT Oklahoma
Kristjan Sokoli DT Buffalo
Koa Farmer LB Penn State
Jordan Jones LB Kentucky
A. J. Tarpley LB Stanford
Matt Elam S Florida
Max Redfield S IUP
Tre Sullivan S Shepherd
Hunter Niswander P Northwestern
Supplemental Draft
Malachi Dupre WR LSU
Tyler Palka WR Gannon
Eli Rogers WR Louisville
Donnie Ernsberger TE Western Michigan
A. T. Hall OT Stanford
Malcolm Bunche G UCLA
Dorian Johnson G Pittsburgh
Jesse Aniebonam DE Maryland
Kenny Bigelow DT West Virginia
Jay Bromley DT Syracuse
Kerron Johnson LB Coastal Carolina
Deion Harris CB North Dakota
Kamrin Moore S Boston College
2020 D.C. Defenders Schedule
Week 1: Seattle Dragons
Week 2: New York Guardians
Week 3: @ Los Angeles Wildcats
Week 4: @ Tampa Bay Vipers
Week 5: St. Louis BattleHawks
Week 6: Dallas Renegades
Week 7: @ Houston Roughnecks
Week 8: Tampa Bay Vipers
Week 9: @ New York Guardians
Week 10: @ St. Louis BattleHawks
Post Season
Eastern Conference Playoffs: Saturday, April 18 at 3 PM
XFL Championship Game: Sunday, April 26 at 3 PM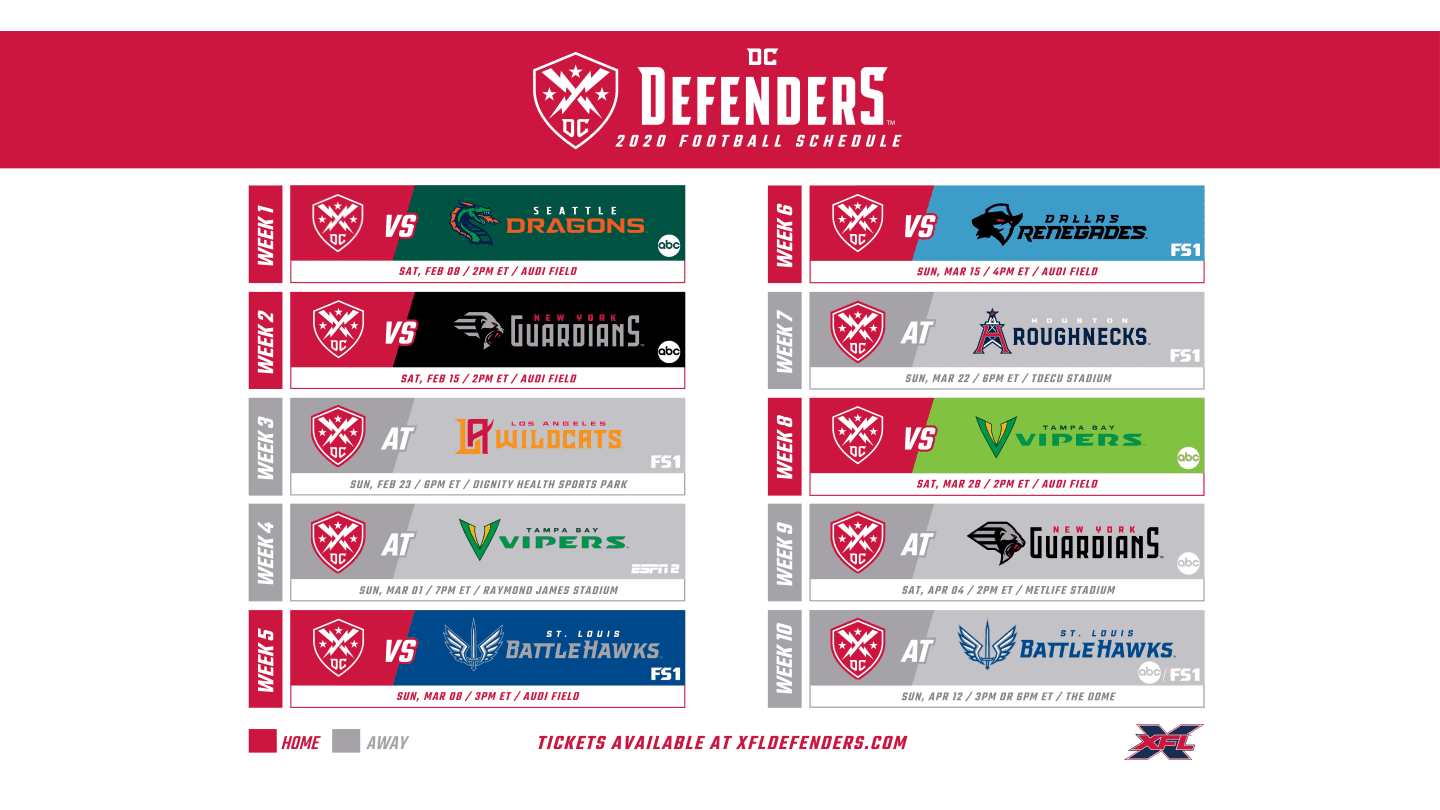 XFL Salaries for DC Defenders
The salary structure for the DC Defenders will mirror the structure of all other teams in the XFL.  The average player salary will be $55,000.  However, this salary will be supplemented in the form of weekly bonuses.  The winning team for each game will split a winner's share pot amongst the players.  There will also be a bonus awarded to those that are merely active on the roster for a given week.
Highly skilled or productive quarterback and skill position players will have the opportunity to supplement their pay and draw a much higher salary than the average.  The league has also set the maximum salary for XFL coaches at $500,000 per year.