Betting on the DC Defenders
You've found the right place for all the information you could possibly need to place a bet on the DC Defenders.  Fall is over, but don't worry.  Spring is here, and the XFL and DC Defenders will satisfy your football cravings and provide loads of betting action for the 2020 XFL season.
The Baltimore and Washington D.C. areas have a long history of hosting professional football franchises.  The Washington Redskins moved from Boston to Washington, D.C. in 1937 and are still there today.  The Baltimore Colts played in the region from 1953 to 1983 and won two NFL championships and a Super Bowl. In 1996, the Baltimore Ravens moved to the area and have won two titles since arriving.
The DC Defenders have a tough legacy to live up to.  Join in on the fun as the Defenders guard against their XFL combatants and generate loads of betting action. Coach Hamilton and the Defenders look to win an XFL title and hoist the championship trophy in 2020.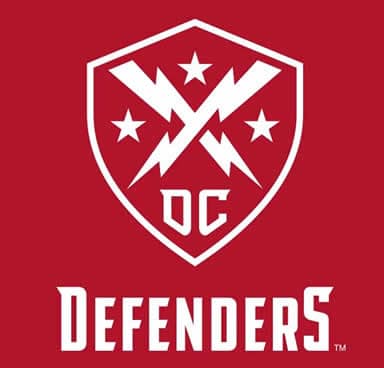 DC Defenders Betting Odds & Team Info
The new XFL league is about to kick off action, and oddsmakers have begun to post betting lines on the DC Defenders.  We are seeing more odds posted every day, so check this page often as we'll be updating information frequently.
Name:
D.C. Defenders
City:
Washington, D.C.
Head Coach and GM:
Pep Hamilton
Venue:
Audi Field
Capacity:
20,000
Team Colors:
Red and White
Top Rated XFL Sportsbooks For Betting On The Defenders
Bovada Sportsbook
If you want to wager at the #1 US sportsbook, choose Bovada. With nearly a decade leading the industry, the site is open to most US residents and has a host of bonuses and incentives for new members.
Sign up today, and you can take advantage of Bovada's $250 Welcome Bonus that gives players a little more offense on the front lines, all with the industry's friendliest terms.
Bovada is by far the most trusted offshore betting site, and XFL fans get weekly odds and championship futures all season long.
Is XFL Betting Legal?
As long as you place your bets at an online or brick and mortar sportsbook that is operating legally offshore or domestically, then yes, it is perfectly legal.  The sportsbooks you see on this page are all operating legally within the industry and are either independently licensed or are owned and operated by a parent company that holds licensing credentials.
So if you live in a state that has not yet legalized local sports betting, or you simply prefer the online betting options from international sportsbooks, you can place your bets at legitimate offshore sports betting sites without violating any state or federal gambling laws.  The exceptions are CT and WA, both of which have prohibited all forms of online gambling, and the state of NJ, which has convinced offshore sportsbooks to exit the NJ gambling market.
DC Defenders Personnel
Head Coach and General Manager: Pep Hamilton
Pep Hamilton began his coaching career at his alma mater, Howard University.  After five seasons, he then moved on to become an offensive position coach for New York Jets.   In 2006 he became the quarterback coach for the San Francisco 49ers, and then moved on to serve in the same role for the Chicago Bears the following year.
After spending a couple of seasons in the collegiate ranks at Stanford and then returning to the NFL once again, Pep has turned his sights to the XFL, where he will be a head coach for the first time.  Hamilton will bring his pass-happy offensive scheme to Washington DC and try to keep opposing defenses guessing.
2020 D.C. Defenders Roster
D.C. Defenders Notable Players
2020 D.C. Defenders Schedule
Week 1: Seattle Dragons
Week 2: New York Guardians
Week 3: @ Los Angeles Wildcats
Week 4: @ Tampa Bay Vipers
Week 5: St. Louis BattleHawks
Week 6: Dallas Renegades
Week 7: @ Houston Roughnecks
Week 8: Tampa Bay Vipers
Week 9: @ New York Guardians
Week 10: @ St. Louis BattleHawks
Post Season
Eastern Conference Playoffs: Saturday, April 18 at 3 PM
XFL Championship Game: Sunday, April 26 at 3 PM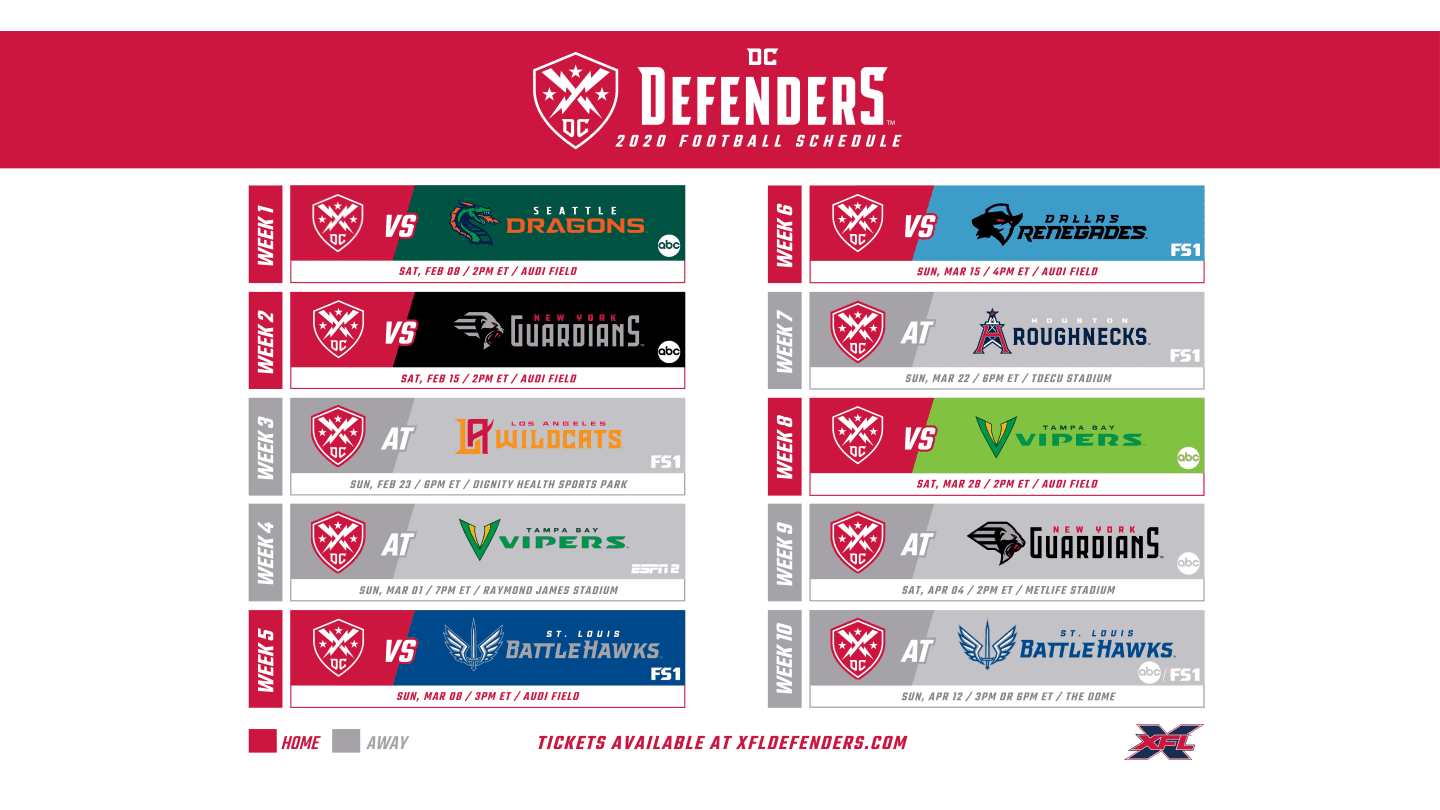 XFL Salaries for DC Defenders
The salary structure for the DC Defenders will mirror the structure of all other teams in the XFL.  The average player salary will be $55,000.  However, this salary will be supplemented in the form of weekly bonuses.  The winning team for each game will split a winner's share pot amongst the players.  There will also be a bonus awarded to those that are merely active on the roster for a given week.
Highly skilled or productive quarterback and skill position players will have the opportunity to supplement their pay and draw a much higher salary than the average.  The league has also set the maximum salary for XFL coaches at $500,000 per year.