Betting on the New York Guardians
X marks the spot as XFL football has returned to New York and is hotter than ever. The Guardians are on the lookout for an XFL Championship and are prepared to defend their home turf against enemy invaders, which is great news for XFL betting enthusiasts and football fans alike. If you want to lay your money down, make sure your picks – and your sportsbook – are well guarded!
New York City's MetLife Stadium is the home of the NFL's New York Giants and New York Jets, but now the storied field is also home to the new G-men! The Guardians are poised to bring home an XFL title and take their place amongst the New York elite. Once the XFL betting action kicks off, expect the Guardians to safeguard your journey to the top.
To learn about how to bet on the Guardians of the XFL, read on as we provide a complete walkthrough of the 2020 season and help you find the best XFL sportsbook sites on the Internet. Kevin Gilbride and company look to man their posts and watch the Guardians develop a championship contender for 2020 and beyond.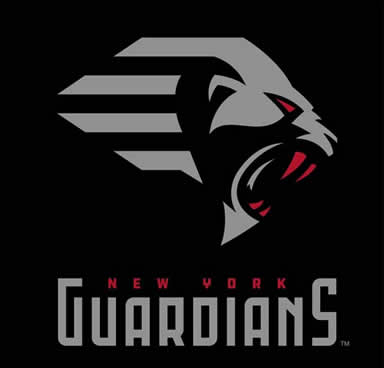 New York Guardians Betting Odds & Team Info
The new XFL is here and oddsmakers are beginning to release betting lines.  While the earliest lines are up at most reputable offshore sportsbooks, you're sure to see more XFL odds and props posted as the season gets underway and fans start tuning in.  Check back here frequently, as this page will be updated with new XFL betting options whenever they're added to the menu.
Name:
Guardians
City:
New York, NY
Venue:
MetLife Stadium
Capacity:
82,550
Team Colors:
Black, Gray, and Red
Head Coach and GM:
Kevin Gilbride
Top Rated Online Sportsbooks For Betting On The Guardians
Bovada Sportsbook
When you want to bet on the new XFL, the first site you should look at is Bovada. As America's best sportsbook, Bovada has been in the game for years, offering the experience and security that millions of US bettors trust.
When you sign up at Bovada, you can get a $250 Sports Welcome Bonus, padding your bankroll so you can pad your stats.
Millions of players wager at Bovada, and the site also offers a robust casino, full racebook, and a poker room so you'll always have something to do in between XFL matchups.
Is XFL Betting Legal?
As long as you place your bets at an online or brick and mortar sportsbook that is operating legally offshore or domestically, then yes, it is perfectly legal.  The sportsbooks you see on this page are all operating legally within the industry and are either independently licensed or are owned and operated by a parent company that holds licensing credentials.
So if you live in a state that has not yet legalized local sports betting, or you simply prefer the online betting options from international sportsbooks, you can place your bets at legitimate offshore sports betting sites without violating any state or federal gambling laws.  The exceptions are CT and WA, both of which have prohibited all forms of online gambling, and the state of NJ, which has convinced offshore sportsbooks to exit the NJ gambling market.
New York Guardians Coaches
Head Coach/General Manager: Kevin Gilbride
Kevin Gilbride began his coaching career in 1974, where he started in the college ranks before being elevated to the NFL in 1989.  Most will fondly recall Coach Gilbride from his stint as offensive coordinator for the Houston Oilers in the early 1990s.  It was there where he fostered his pass-heavy offense alongside Hall of Fame quarterback Warren Moon.
Unfortunately, Gilbride is likely most remembered for getting into a fistfight with fiery Oilers head coach Buddy Ryan, though he couldn't punch through Ryan's guard (which is ironic given his new post in the XFL). After his time with Houston, Gilbride moved on to become the offensive coordinator for many more NFL teams.  In 1997, he was named head coach for the San Diego Chargers, a position he held for two seasons.
Now, G-Bride has become the first head coach of the G-Men (or G-Boys, depending on your perspective, even though the NFL's Giants are pretty terrible), bringing his own brand of pass-first offense to the table while defending against those who would try to knock the Guardians off their perch.
NY Guardians Notable Players
2020 New York Guardians Schedule
Week 1: Tampa Bay Vipers
Week 2: @ DC Defenders
Week 3: @ St. Louis BattleHawks
Week 4: Los Angeles Wildcats
Week 5: @ Dallas Renegades
Week 6: Houston Roughnecks
Week 7: @ Seattle Dragons
Week 8: St. Louis BattleHawks
Week 9: DC Defenders
Week 10: @ Tampa Bay Vipers
Post Season
Eastern Conference Playoffs: Saturday, April 18 at 3 PM
XFL Championship Game: Sunday, April 26 at 3 PM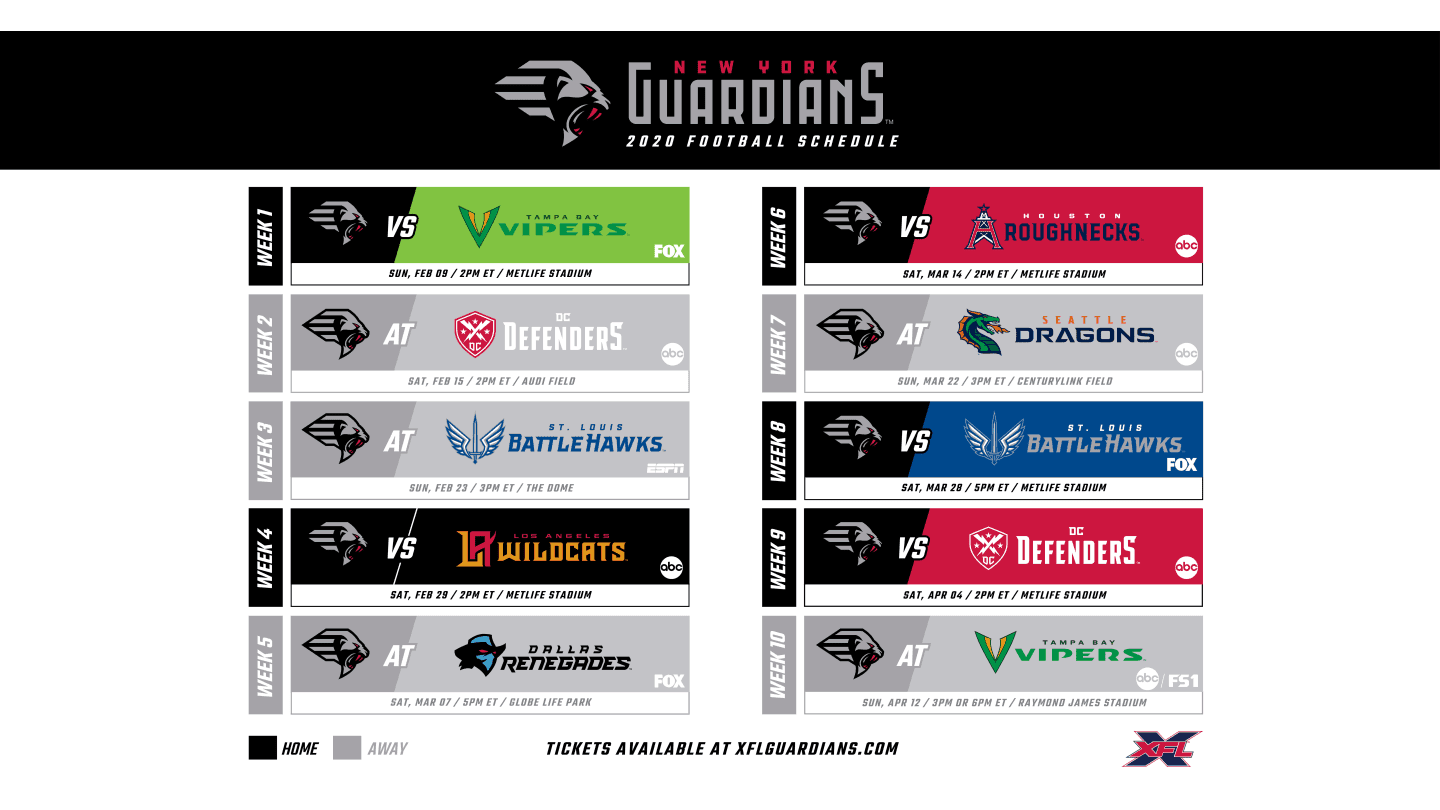 XFL Salaries - NY Guardians
Many are wondering just how much each XFL player will earn.  The actual formula has yet to be released, but the New York Guardians will have the same salary structure as all other teams in the XFL.
The league has revealed that the average XFL salary is $55,000 per player, but quarterbacks are able to earn roughly double that amount.  The salary of other skill positions will fall within the range of the average and the maximum, and XFL players will have the chance to earn additional weekly funds in the form of winner or roster bonuses. Meanwhile, the XFL coaching staff salary tops out at $500,000, though this is heavily dependent upon incentives, and assistant coaches make considerably less.