Betting on the Seattle Dragons
If you're looking to bet on the Seattle Dragons, you've come to the right place. The new XFL is here, and all the best online sportsbooks have Dragons XFL odds posted. Though the team is the biggest underdog of the inaugural 2020 season, the Dragons are breathing down their opponents' necks, and a timely wager on Seattle could light your sportsbook account on fire!
While Seattle has been home to the Seahawks since 1976, the city's football fans have had scant few options outside of their NFL team. Now, instead of shutting it down until the fall and succumbing to the rainy springtime blues each year, Seattle football fanatics can rally around the XFL's Dragons and make a few bucks at the same time.
Here, you'll be able to find everything you need to know for navigating the world of betting on the XFL. Our comprehensive Seattle Dragons guide will have you flying high and scorching your betting competition in no time flat.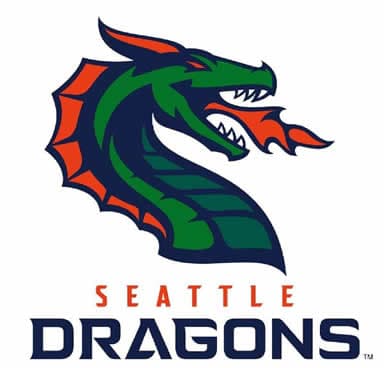 Seattle Dragons Betting Odds & Team Info
Online sportsbooks have been hard at work putting together odds for the 2020 XFL season.  However, with such a young league and limited player data to draw from, the initial lines tend to focus on straights, spreads, and totals. That said, be sure to check back frequently as more betting lines – including XFL props – are debuting all the time.
Name:
Seattle Dragons
City:
Seattle, WA.
Venue:
CenturyLink Field
Capacity:
68,740
Team Colors:
Navy, Green, Orange
Head Coach and GM:
Jim Zorn
Top Rated Online Sportsbooks For Betting On The Dragons
Bovada Sportsbook
When you want to bet on the XFL, you need an X-treme sportsbook. And there's no better, more US-friendly betting site than Bovada. As long as you're 18+, you can sign up and bet real money on spring football!
Bovada offers new members the industry's best welcome bonus, putting up to $250 in free plays in your pocket so you can march down the field all the way to the bank.
As the most trusted book in the US, Bovada also offers more than just sports betting. Enjoy casino games, slots, horse racing, and tournament poker, all at the same site. Join today!
Is XFL Betting Legal?
As long as you place your bets at an online or brick and mortar sportsbook that is operating legally offshore or domestically, then yes, it is perfectly legal.  The sportsbooks you see on this page are all operating legally within the industry and are either independently licensed or are owned and operated by a parent company that holds licensing credentials.
So if you live in a state that has not yet legalized local sports betting, or you simply prefer the online betting options from international sportsbooks, you can place your bets at legitimate offshore sports betting sites without violating any state or federal gambling laws.  The exceptions are CT and WA, both of which have prohibited all forms of online gambling, and the state of NJ, which has convinced offshore sportsbooks to exit the NJ gambling market.
Seattle Dragons Coaches
Head Coach and General Manager: Jim Zorn
Many may remember Zorn from his days as the starting quarterback for the Seattle Seahawks in the late 70s and early 80s.  After his playing career, Zorn spent several years as an assistant coach in the NFL, eventually becoming the head coach of the Washington Redskins from 2008-2009. Zorn has been out of the coaching game since 2012, though he's champing at the bit to help the new XFL get started on the right cleat.
To that end, Zorn has strapped on the headset once again to helm the Seattle Dragons for the 2020 XFL season. Zorn will likely install his West Coast style of pass-heavy offense in his quest to lead the Dragons to an XFL championship, and his crack staff of assistant coaches are willing to put in the hard work to help the team – and the city – achieve gridiron glory.
2020 Seattle Dragons Roster
Seattle Dragons Notable Players
2020 Seattle Dragons Schedule
Week 1: @ DC Defenders
Week 2: Tampa Bay Vipers
Week 3: Dallas Renegades
Week 4: @ St. Louis BattleHawks
Week 5: @ Houston Roughnecks
Week 6: Los Angeles Wildcats
Week 7: New York Guardians
Week 8: @ Dallas Renegades
Week 9: @ Los Angeles Wildcats
Week 10: Houston Roughnecks
Post Season
Western Conference Playoffs: Sunday, April 19 at 3 PM
XFL Championship Game: Sunday, April 26 at 3 PM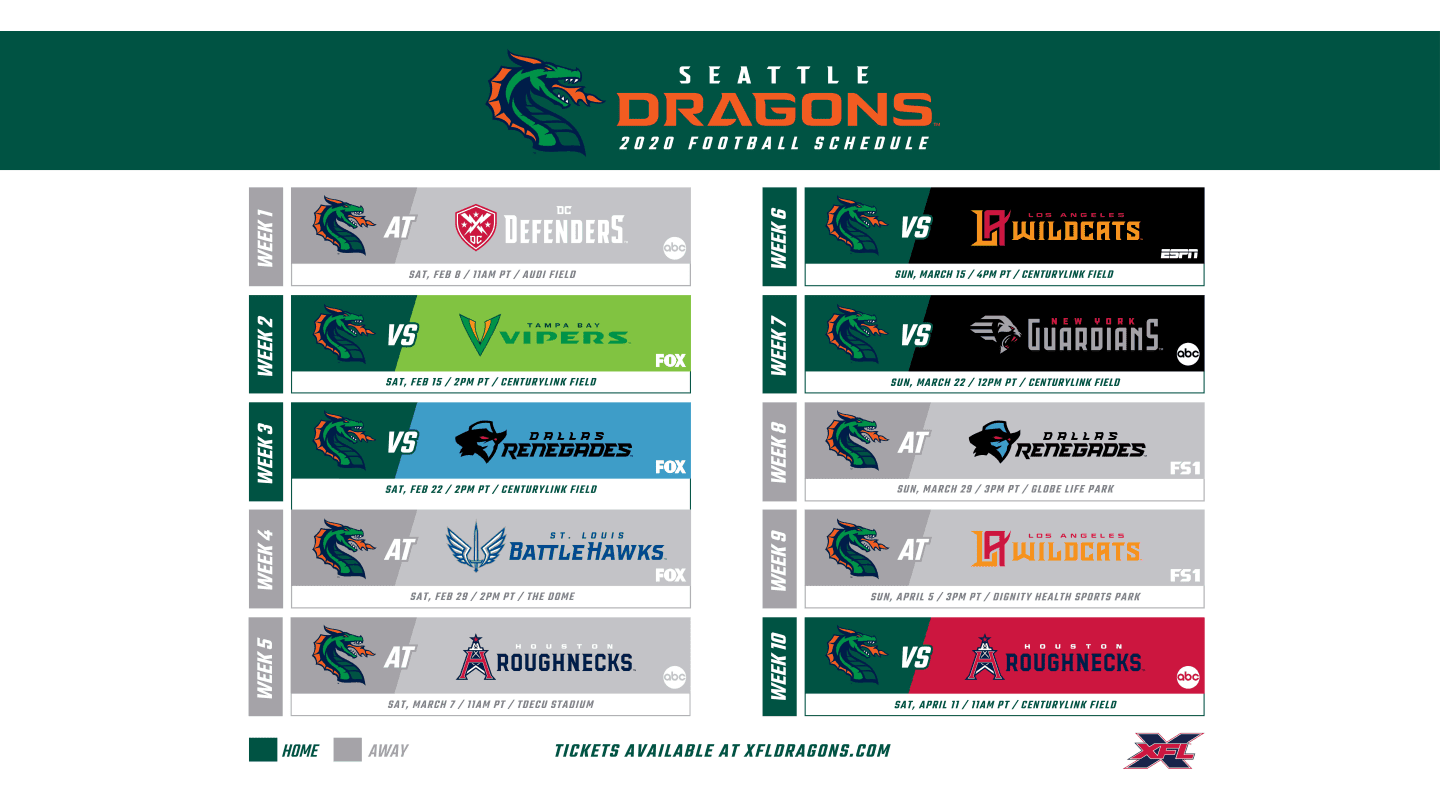 XFL Salaries
Salaries will be the same for all XFL teams in the league.  We've yet to see an official breakdown of the salary structure for the XFL, but what we know so far is that the average salary for each player will be $55,000, with players at skill positions such as quarterback or wide receiver having the opportunity to earn a higher salary.
Game bonuses will be awarded to players on the winning team each week, and there will also be weekly roster bonuses awarded to active players. XFL coaches can earn up to a maximum of $500,000 per year, depending on the incentive thresholds they meet.