Betting on the Seattle Dragons
If you're looking to bet on the Seattle Dragons, you've come to the right place. The new XFL is here, and all the best online sportsbooks have Dragons XFL odds posted. Though the team is the biggest underdog of the inaugural 2020 season, the Dragons are breathing down their opponents' necks, and a timely wager on Seattle could light your sportsbook account on fire!
While Seattle has been home to the Seahawks since 1976, the city's football fans have had scant few options outside of their NFL team. Now, instead of shutting it down until the fall and succumbing to the rainy springtime blues each year, Seattle football fanatics can rally around the XFL's Dragons and make a few bucks at the same time.
Here, you'll be able to find everything you need to know for navigating the world of betting on the XFL. Our comprehensive Seattle Dragons guide will have you flying high and scorching your betting competition in no time flat.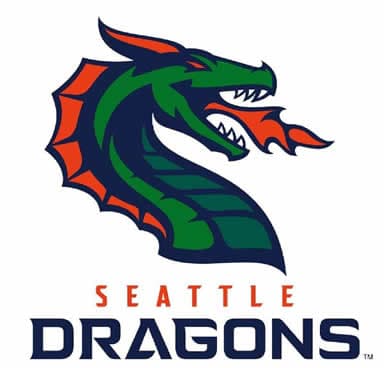 Seattle Dragons Betting Odds & Team Info
Online sportsbooks have been hard at work putting together odds for the 2020 XFL season.  However, with such a young league and limited player data to draw from, the initial lines tend to focus on straights, spreads, and totals. That said, be sure to check back frequently as more betting lines – including XFL props – are debuting all the time.
Name:
Seattle Dragons
City:
Seattle, WA.
Venue:
CenturyLink Field
Capacity:
68,740
Team Colors:
Navy, Green, Orange
Head Coach and GM:
Jim Zorn
Bovada

Team
 
Dallas Renegades:

TBA

DC Defenders:

TBA

Tampa Bay Vipers:

TBA

Houston Roughnecks:

TBA

Los Angeles Wildcats:

TBA

St. Louis Battlehawks:

TBA

New York Guardians:

TBA

Seattle Dragons:

TBA
MyBookie

Team
 
Dallas Renegades:

TBA

New York Guardians:

TBA

Tampa Bay Vipers:

TBA

Los Angeles Wildcats:

TBA

DC Defenders:

TBA

Houston Roughnecks:

TBA

St. Louis Battlehawks:

TBA

Seattle Dragons:

TBA
Bovada
Spread:
Guardians:

TBA
Renegades:

TBA
Dragons:

TBA
Roughnecks:

TBA
Battlehawks:

TBA
Defenders:

TBA
Wildcats:

TBA
Vipers:

TBA
MyBookie
Spread:
Guardians:

TBA
Renegades:

TBA
Dragons:

TBA
Roughnecks:

TBA
Battlehawks:

TBA
Defenders:

TBA
Wildcats:

TBA
Vipers

TBA
Top Rated Online Sportsbooks For Betting On The Dragons
Bovada Sportsbook
When you want to bet on the XFL, you need an X-treme sportsbook. And there's no better, more US-friendly betting site than Bovada. As long as you're 18+, you can sign up and bet real money on spring football!
Bovada offers new members the industry's best welcome bonus, putting up to $250 in free plays in your pocket so you can march down the field all the way to the bank.
As the most trusted book in the US, Bovada also offers more than just sports betting. Enjoy casino games, slots, horse racing, and tournament poker, all at the same site. Join today!
Is XFL Betting Legal?
As long as you place your bets at an online or brick and mortar sportsbook that is operating legally offshore or domestically, then yes, it is perfectly legal.  The sportsbooks you see on this page are all operating legally within the industry and are either independently licensed or are owned and operated by a parent company that holds licensing credentials.
So if you live in a state that has not yet legalized local sports betting, or you simply prefer the online betting options from international sportsbooks, you can place your bets at legitimate offshore sports betting sites without violating any state or federal gambling laws.  The exceptions are CT and WA, both of which have prohibited all forms of online gambling, and the state of NJ, which has convinced offshore sportsbooks to exit the NJ gambling market.
Seattle Dragons Coaches
Head Coach and General Manager: Jim Zorn
Many may remember Zorn from his days as the starting quarterback for the Seattle Seahawks in the late 70s and early 80s.  After his playing career, Zorn spent several years as an assistant coach in the NFL, eventually becoming the head coach of the Washington Redskins from 2008-2009. Zorn has been out of the coaching game since 2012, though he's champing at the bit to help the new XFL get started on the right cleat.
To that end, Zorn has strapped on the headset once again to helm the Seattle Dragons for the 2020 XFL season. Zorn will likely install his West Coast style of pass-heavy offense in his quest to lead the Dragons to an XFL championship, and his crack staff of assistant coaches are willing to put in the hard work to help the team – and the city – achieve gridiron glory.
OC – Mike Riley
RB Coach – Butch Goncharoff
WR Coach – Larry Kirksey
OL Coach – Steve Smith
TE Coach – Steve Hagen
Off. Asst. – Josh Oglesby
DC/DB Coach – Clayton Lopez
DL Coach – Donald Johnson
ST/LB Coach – Chip Garber
Asst. Def./DB Coach – Marcus Ungaro
2020 Seattle Dragons Roster
2 Kasen Williams WR 6-1 218 Washington
7 B.J. Daniels QB 5-11 222 South Florida
9 Brock Miller P 5-11 190 Southern Utah
10 John Santiago WR 5-9 170 North Dakota
11 Sergio Bailey WR 6-0 185 Eastern Michigan
12 Brandon Silvers QB 6-3 224 Troy
13 Austin Proehl WR 5-9 182 North Carolina
14 Alonzo Moore WR 6-1 199 Nebraska
16 Dontez Byrd WR 5-11 180 Tennessee Tech
19 Keenan Reynolds WR 5-10 190 Navy
20 Kenneth Farrow RB 5-10 219 Houston
21 Mohammed Seisay CB 6-1 202 Nebraska
23 Trey Williams RB 5-8 195 Texas A&M
24 Marko Myers CB 5-10 185 Southeastern
25 Steve Williams CB 5-9 181 California
27 Johnathan Alston CB 6-1 206 North Carolina State
30 Channing Stribling CB 6-2 188 Michigan
31 Ja'Quan Gardner RB 5-5 201 Humboldt State
32 Tyson Graham S 6-2 208 South Dakota
33 Jordan Martin S 6-2 204 Syracuse
34 Jeremy Clark CB 6-3 206 Michigan
35 Godwin Igwebuike S 6-0 212 Northwestern
39 Santos Ramirez S 6-1 202 Arkansas
41 Noah Borden LS 6-1 220 Hawaii
50 Dillon Day C 6-3 301 Mississippi St.
51 Praise Martin-Oguike DE 6-0 258 Temple
52 Kyle Queiro LB 6-2 215 Northwestern
55 Nick Temple LB 5-10 224 Cincinnati
56 Nyles Morgan LB 6-1 230 Notre Dame
57 Marcel Frazier DE 6-5 256 Missouri
59 Steven Johnson LB 6-1 239 Kansas
68 Cyril Richardson G 6-5 329 Baylor
69 William Campbell G 6-5 309 Michigan
72 Anthony Moten DT 6-4 315 Miami (FL)
73 Kirk Barron C 6-2 309 Purdue
75 Venzell Boulware G 6-3 306 Tennessee
76 Michael Dunn T 6-5 300 Maryland
77 Quinterrius Eatmon T 6-6 313 South Florida
79 Isaiah Battle T 6-6 312 Clemson
81 Colin Jeter TE 6-5 250 LSU
84 Ben Johnson TE 6-4 246 Kansas
85 Cam Clear TE 6-5 277 Texas A&M
88 Evan Rodriguez TE 6-2 239 Temple
89 Connor Hamlett TE 6-7 259 Oregon State
90 Stansly Maponga DE 6-2 256 TCU
91 Anthony Johnson DE 6-3 279 Florida International
92 Durrant Miles DE 6-4 263 Boise State
93 Will Sutton DT 6-1 303 Arizona State
94 Pasoni Tasini DT 6-4 297 Utah
97 Jacquies Smith DE 6-3 253 Missouri
99 Jordan Thompson DT 6-2 284 Northwestern
Seattle Dragons Notable Players
Former Troy quarterback Brandon Silvers has been named the starter for the Seattle Dragons.  Brandon spent time in the New York Jets training camp in 2019 but didn't make the team.  After spending a season in the now-defunct AAF, he is looking to show the world that he has the talent to play at the highest level. 
Daniels was not able to beat out Silvers for the starting QB job, but he'll be ready to take the helm should the opportunity arise. B.J. excelled during his time at the University of South Florida, finishing near the top of many Big East passing categories. 
Proehl has spent the last two seasons on the Buffalo Bills, Tennessee Titans, and Los Angeles Rams practice squads.  Now, he's a member of the Dragons, and he is looking to make an impact at wide receiver. If his last name sounds familiar, it's because his father, Ricky Proehl, was a wide receiver in the NFL for 17 seasons, winning two Super Bowls. Like father, like son, as a Seattle Dragon is every bit as impressive as a Superb Owl.   
Tier 1 Quarterback Allocations

Brandon Silvers – QB – Troy
Chase Litton – QB – Marshall *Supplemental draft selection
Phase 1: Skill Players

1 7 Trey Williams RB Texas A&M
2 10 Kenneth Farrow RB Houston
3 23 Fred Ross WR Mississippi State
4 26 Jace Amaro TE Texas Tech
5 39 Keenan Reynolds WR Navy
6 42 Evan Rodriguez TE Temple
7 55 Kasen Williams WR Washington
8 58 John Santiago WR North Dakota
9 71 Cam Clear TE Texas A&M
10 74 Malachi Jones WR Appalachian State

Phase 2: Offensive Line

1 2 Isaiah Battle OT Clemson
2 15 Venzell Boulware G Tennessee
3 18 Dillon Day OT Mississippi State
4 31 Cyril Richardson G Baylor
5 34 Quinterrius Eatmon OT South Florida
6 47 Michael Dunn OT Maryland
7 50 Kirk Barron C Purdue
8 63 Jordan Rose OT Idaho
9 66 Robert Myers G Tennessee State
10 79 Craig McCorkle OT California (PA)
Phase 3: Defensive Front Seven

1 3 Stansly Maponga DE TCU
2 14 Nick Temple LB Cincinnati
3 19 Will Sutton DT Arizona State
4 30 Tenny Palepoi DE Utah
5 35 Jacquies Smith DE Missouri
6 46 Steven Johnson LB Kansas
7 51 Taniela Tupou DT Washington
8 62 Danny Ezechukwu DE Purdue
9 67 Pasoni Tasini DT Utah
10 78 Praise Martin-Oguike DE Temple

Phase 4: Defensive Backs

1 6 Jhavonte Dean CB Miami (FL)
2 11 Chris Davis CB Auburn
3 22 Kentrell Brice S Louisiana Tech
4 27 Steve Williams CB California
5 38 Channing Stribling CB Michigan
6 43 Cody Brown S Arkansas State
7 54 Jordan Martin S Syracuse
8 59 Tyson Graham S South Dakota
9 70 Mohammed Seisay CB Nebraska
10 75 Sterling Moore CB SMU
Phase 5: Open Draft

B. J. Daniels QB South Florida
Joe Callahan QB Wesley
Ja'Quan Gardner RB Humboldt State
Lavon Coleman RB Washington
Austin Proehl WR North Carolina
Jalen Rowell WR Air Force
Korey Robertson WR Southern Miss
Mikah Holder WR San Diego State
Reuben Mwehla WR Idaho
Ben Johnson TE Kansas
Colin Jeter TE LSU
Connor Hamlett TE Oregon State
Brandon Haskin OT Tennessee State
Naty Rodgers OT Houston
Durrant Miles DE Boise State
Marcell Frazier DE Missouri
Martin Ifedi DE Memphis
Anthony Johnson DT FIU
Jeremy Liggins DT Ole Miss
Jordan Thompson DT Northwestern
Shane Bowman DT Washington
Dante Booker LB Ohio State
Gionni Paul LB Utah
Kyle Queiro LB Northwestern
Nyles Morgan LB Notre Dame
Jermaine Ponder CB Saint Francis
Santos Ramirez S Arkansas
Greg Joseph K Florida Atlantic
Brock Miller P Southern Utah
Noah Borden LS Hawaii

Supplemental Draft:

Tyre Brady WR Marshall
Anthony Moten DT Miami (FL)
Godwin Igwebuike S Northwestern
2020 Seattle Dragons Schedule
Week 1: @ DC Defenders
Week 2: Tampa Bay Vipers
Week 3: Dallas Renegades
Week 4: @ St. Louis BattleHawks
Week 5: @ Houston Roughnecks
Week 6: Los Angeles Wildcats
Week 7: New York Guardians
Week 8: @ Dallas Renegades
Week 9: @ Los Angeles Wildcats
Week 10: Houston Roughnecks
Post Season
Western Conference Playoffs: Sunday, April 19 at 3 PM
XFL Championship Game: Sunday, April 26 at 3 PM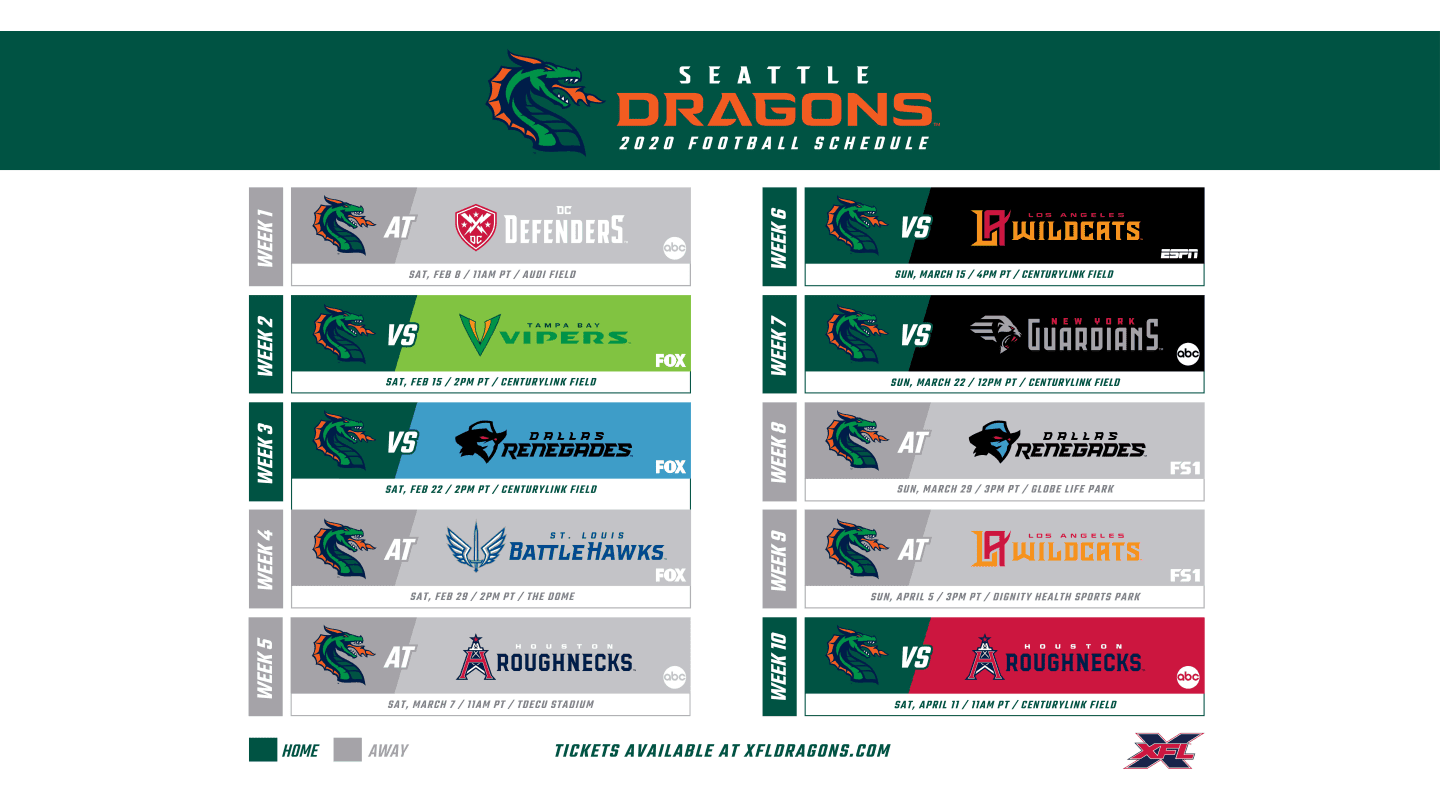 XFL Salaries
Salaries will be the same for all XFL teams in the league.  We've yet to see an official breakdown of the salary structure for the XFL, but what we know so far is that the average salary for each player will be $55,000, with players at skill positions such as quarterback or wide receiver having the opportunity to earn a higher salary.
Game bonuses will be awarded to players on the winning team each week, and there will also be weekly roster bonuses awarded to active players. XFL coaches can earn up to a maximum of $500,000 per year, depending on the incentive thresholds they meet.